Live like a Gucci at these themed properties
Ridley Scott's film "House of Gucci" took the world by storm, offering a fascinating look at the Italian fashion dynasty.
And if things like murder and dysfunction don't turn you off, you might want to channel the family lifestyle, if just for one night.
Two properties give you the chance to live like a Gucci, first in London, then on Lake Como. Bring your wallet and watch your back.
Gucci Royal Suite
Before founding the fashion house in 1921, Guccio Gucci worked as a porter at London's famous Savoy Hotel, drawing inspiration from stylish travelers. Today, the hotel commemorates the brand's centenary with the Royal Suite, which spans 2,852 square feet, spans the entire length of the fifth floor and overlooks the Thames below.
The interior has been redesigned to resemble the world of Gucci, with furniture and decorations taken from the Gucci Décor collection, and the art has been specially designed by Christie's to achieve the appropriate aesthetic. There is a four poster bed, a spacious living room with an elegant dining area, a large marble bathroom and a spacious walk-in closet with a cedar cabinet. It has all the necessary attributes plus the gold and velvet you would expect.
A stay in a Royal Suite also includes private transfers to the hotel, a welcome gift and a bottle of Champagne, as well as a choice of Italian cocktails for an evening aperitif. Then you get a VIP shopping experience, either in the Royal Suite or at one of London's Gucci stores, with a chauffeured ride in a Rolls Royce.
Villa Balbiano: the "House of Gucci" on Lake Como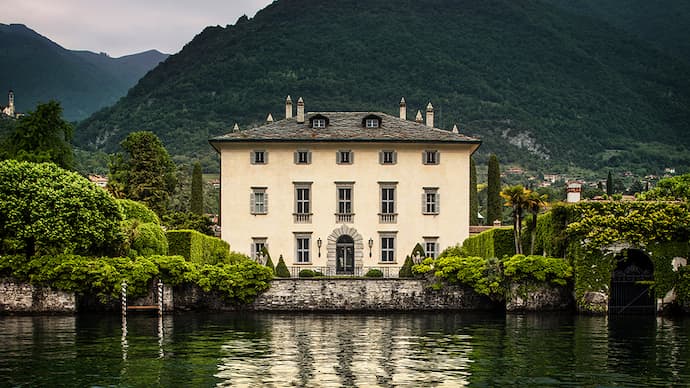 Located on the shores of Lake Como, Villa Balbiano stars as the home of family patriarch Aldo Gucci in the film. The historic palace was built in the 16th century and once belonged to the famous Cardinal Tolomeo Gallio. Today it is one of the largest private residences on the lake, with a picturesque garden, swimming pool, private jetty and boathouse. Inside, the six-bedroom, six-bathroom home is filled with 17th-century artwork, antiques, and frescoes.
There's a catch though: the Residence is only available for one night, so have your clicking finger ready. Reservations open Monday, December 6 at 12 p.m. EST for a stay on March 30, 2022.