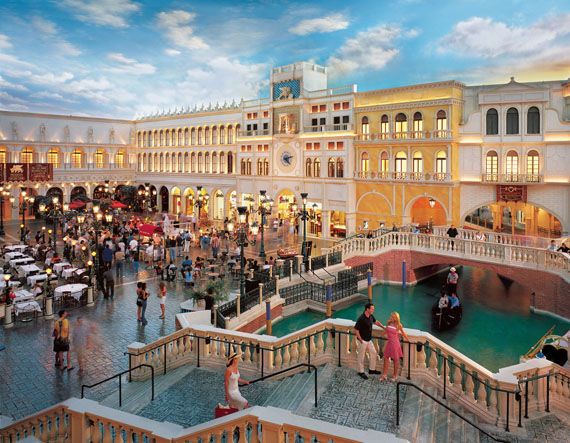 The Canyon Ranch spa at the Palazzo hotel offers the Dolche Vita in Vegas
You don't usually "escape" to Las Vegas. The ping of the slots and the hordes of grotesque people lining up for all-you-can-eat seafood buffets are enough to put me off the state of Nevada. But something recently wooed me in return. Thanks to a truly tranquil and luxurious experience at the Palazzo and the Venetian, I have a refreshed view of Las Vegas. Here's the scoop:
Prestige: Palazzo's semi-new offering is a must for anyone seeking sanctuary or seclusion in Vegas. Perched on the top floor of the Palazzo, Prestige allows you to bypass the long queues and the din of the lobby. Private elevators took us to this serene floor, outfitted with understated Italian accents and welcoming, enthusiastic staff. The champagne offered on arrival didn't hurt either.

Throughout the day, Prestige rolls out an impressive array of snacks and meals, starting with a free continental breakfast and ending with a dessert bar from 7pm to 9pm.
A daily complimentary cocktail seems to be a favorite with staff and guests alike, as guests spread out across the huge lounges, taking in the sweeping views of the Strip and the mountains beyond. Inside the decadent suites, skip one of the chores of travel and opt for unboxing and (for later) packing services. It gave me more time to jump in the tub and sink into one of Prestige's favorite baths: the Cioccolato. I soaked and nibbled on truffles as chocolate bath bubbles floated around me. I'm starting to like the relaxed Italian style!
Spa treatments worthy of Italian royalty: Swimming is important in Italy. Walking into the Venetian and Palazzo's shared spa, Canyon Ranch in Las Vegas, I knew a bubble bath wouldn't be enough for this stay. As one of the largest spas in the world, Canyon Ranch in Las Vegas seems endless, to my delight, with one bathing experience room after another. Aquavana, the spa's European thermal aqua arena, can offer guests a rainforest mist or cover them in swirling snowflakes. The igloo was one of my favorite "rooms", a modern and refreshing igloo-like structure that fogged me up with gusts of arctic air. The Wave Room, a mixed space, reflects the movements of the water on a dome-shaped glass roof. It would be sublime to spend a day just at Aquavana and luckily day packages are available.
"Healthy Feet" is one of the latest offerings from Canyon Ranch Las Vegas. Italian shoes are fantastic, but they challenge my stamina to strut in stiletto. Developed in partnership with foot guru Dr. Glenn Copeland, author of The Foot Book, Healthy Feet Services include Gait Analysis and Canyon Ranch Signature Foot and Lower Leg Rejuvenation. This is a full-fledged foot respite that includes a hot herbal bath, deep swing, and foot and leg massage. I almost cried with joy when I spotted the Healthy in Heels service, a foot therapy session for those who love their heels. What happiness!
Totally Italian: Now refreshed and relaxed, I figured I could plan a luxurious, Italian-style evening. The evening started with the classic Venetian offer: a gondola ride, which placed us right at Canaletto's doorstep. This Italian restaurant can be found in the Venetian version of St. Mark's Square, the famous Italian epicenter of architecture and culture. Dinner was quiet and fun, just like Vegas should be. I enjoyed our cast of waiters and busboys, all Italian, or at least damn good at pretending to be seductive and engaging accents. The end of our evening was surely my favorite: attending the Phantom of the Opera. It is generally difficult for me to be suspended from my own little reality, often distracted by others in a theater or unconvinced by the performers on stage. This cast, this show, this scene of the Phantom, however, is so perfected that its magic is universal. I can feel it every time, from goosebumps to tears. For those who want an even more intimate experience, the Phantom VIP experience offers a meet-and-greet with the cast, a behind-the-scenes tour of the phenomenal set, and high-end seating next to the orchestra.
Learn more: Palazzo.com and Venetian.com.